Fall Classes Are Ready to Start
We have limited space and all classes have a maximum class size of 8 so be sure to either call or drop into the shop to sign up. If a class fills up we will be happy to schedule a second class. To make sure your space is reserved in a class you will need to sign up and pay for that class. Be sure to call 336-889-8650 or drop by the shop if you have a class you would like to see us offer.
Our Regular Shop Hours Are:
Tuesday, Wednesday and Friday 10 am – 5 pm
Saturday 10 am – 3 pm
Open Knitting (and Crochet) Night
Beginning on Thursday, October 6th we will bring back our Thursday Open Knit nights on the first and third Thursdays of each month. Please join us from 5:30 – 7:30 pm on October 3rd and October 17th this month as we begin Thursday Open Knit (and Crochet) nights.
MondayOpen Crochet
Mondays 6:30 pm to 8:30 pm
If you crochet this is your night.  Bring your project to work on and to share.  Beginners are welcome. We also welcome knitters this night.
Private lessons
Private lessons are available in knitting and crocheting.  The cost is $15 for a one hour lesson scheduled at a time convenient for you and the instructor. Call the store or email Judy or Wendi to schedule a lesson and for more information. Judy is available for knitting lessons and Wendi is available for Crocheting lessons.
KNITTING CLASSES
New Fall 2016 Knitting 
~~~~~~~~~~~~~~~~~~~~~~~~~~~~~~~~~~~~~~~~~~~~~~~~
An incredible fall season has begun and we have some new classes (and some ongoing ones) that we are offering at Common Threads beginning in October as Judy begins to regain her footing (yes, pun intended).

Basic Error Correction Thursday October 6th from 6 to 7 pm. We hope this will be a great beginning for resuming our Open Knit Night on Thursdays!
Would having some experience on fixing basic mistakes make your life a lot easier? Well, Peggy has ordered dozens of Handi Knit Fix tools and we will be having a special event this coming Thursday, October 6th at 6 pm to introduce you to this indispensable knitting tool!  (And to say a big Welcome Back!!! to Judy) The tool will cost you less than $2 (where can you get a deal like that anymore) and Judy will give demonstrations on how to use this tool for basic error correction and for picking up stitches.  Class fee is $5.00. Also, if there is interest we will schedule a more detailed error correction class later in the month.
Sock Lovers Unite on Friday Nights!
Sock class and knitting Night
Every Friday 5:30 to 8 pm.  (No class Nov. 11)
Friday Night Sock class is an ongoing class and is a great way to finish your week if you need a fiber fix, or if you want to learn to knit socks, need to finish a sock (or socks), or just want to come and knit or crochet – then this is for you!! If you are a beginner the first 3 classes cost $35.00.  After that all sessions are $5 a session. You can purchase the yarn and needles at the shop on class day.  Socks can be knitted using double pointed needles, 2 circulars, or one long circular needle (32″ or longer) for magic loop.  All methods will be demonstrated at the first class.   If you have questions email Judy at drjbateman98@gmail.com or give her a call at the shop. And as an added bonus, if you come and join us we will tell you why a full service yarn shop really needs meat tenderizer.
Beginning knitting
Saturdays 1 to 2:30  Oct. 15, 22, 29 and Nov. 5
We have several people who have indicated an interest in a Beginning knittingclass so this is one of the first classes we will be starting on Saturdays in October from 1 to 2:30 pm. This class is for anyone who has never knit or who is starting back to knitting after a time away from knitting.  We will cover knitting and purling, tools and yarn types, very basic error correction and pattern reading, and we will make a sampler scarf using different basic stitch patterns. Class fee is $40 and is taught by Judy. Yarn and needles must be purchase from Common Threads.
Introduction to Brioche
Saturdays 9 to 10:30 am Oct. 15, 22, 29 and Nov. 5   
Brioche is the
"IT"
 technique of the fall season and we will be offering an 
Introduction to Brioche
 series of classes exploring this technique in a variety of stitches.  You can create some very different knitted projects using this technique.  You will need basic knitting skills for this class. Class fee is $40 and is taught by Judy. You can use different weights of yarn but all supplies must be purchased from the shop.
Introduction to double knitting
November 19 and 26, December 10 and 17


Janie Watkins knit the spectacular star wars double knit scarf.  This class will explore this technique that results in a double fabric.  If you create a design using 2 colors (like Janie did) you will have the reverse image on the other side. You too can create a stunning scarf, shawl, hat or sweater.   You will need basic knitting skills for this class.   Class fee is $40 and is taught by Judy. Time to be announced.
FALL 2016 CROCHET CLASSES
Remember if you are interested in any of these classes and cannot come at the time the class is scheduled call or email Wendi  (336-884-2186 or wendi@wendisworkbasket.com) and she will set up a time to work with you in a private lesson.  
Crochet Project – Entrelac Hat in Tunisian Crochet
(For Crocheters with the knowledge of basic Tunisian Crochet stitches.)
Tuesdays, September 13 and October 4, 6 to 8 pm
Entrelac Crochet is a technique that uses Tunisian Crochet stitches, and the finished work is comprised of rows of diamonds.
For this project you'll need about 150-200 yds (100g) yarn of your choice (preferably worsted weight).  You can select either a skein with long colorways or use 2-3 separate colors.
Crochet hooks (You do NOT need a Tunisian hook.)
Yarn needle & scissors.
Two 2-hour lessons
Cost: $35
Crochet Skills – Making an Easy Top-Down Hat
(For Crocheters with the knowledge of basic crochet stitches.)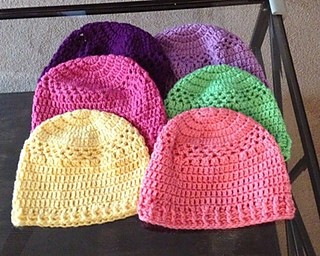 Learn the basic techniques of making a top-down hat… using any yarn … and to fit any size head!  During the class, we'll make a hat to fit your head.  You can select any yarn (worsted weight or bulky will work up quicker) and appropriate hook size for the yarn you are using.
2 hours
Cost: $25
Crochet Skills – Seams Like Magic
(For Crocheters with the knowledge of basic crochet stitches.)
Tuesday November 15, 6 pm to 8 pm.
See below for homework!!
Crochet projects can be enhanced by using an effective method for joining or seaming.  There are many different ways to join crocheted fabric, each with either an aesthetic or functional advantage.  We'll be exploring a few of these methods.
You willl need 2-3 contrasting colors of smooth, acrylic, medium weight yarn. These do not need to be full balls. Don't forget your hooks, yarn needles and small scissors.
For this class, you will also need to make a few crocheted swatches beforehand:
■  6 Granny squares
■  4 Single Crochet swatch strips
■  2 Double Crochet swatch strips
The patterns for the swatches are available either at the shop or by emailing wendi@wendisworkbasket.com.
2 hours
Cost: $25
Crochet Projects – Easy Crocheted Fingerless Gloves
(For Beginner Crocheters with the knowledge of basic crochet stitches.)
Tuesday November 1, 6 pm to 8 pm
These quick-and-easy mitts make great gifts for everyone, especially serial text-ters.  They also work as wrist warmers (when your sleeves aren't long enough).  And of course, they are ideal for committed crocheters (and knitters) so your fingers are warm and available!  Make one pair or make them all.
You will need a ball of worsted weight yarn for each pair of mitts.
2 hours
Cost: $25
Crochet Along – Interlocking Crocheted Infinity Scarf or Cowl.
(For Crocheters with the knowledge of basic crochet stitches.)
Tuesdays 6 to 8 pm. October 25, November 8, November 22, and December 6
Learn a new skill this year! Interlocking Crochet aka Double Filet, Intermeshing or Interweave Crochet is a technique where two layers of filet mesh are worked simultaneously and woven together (interlocked). This creates a reversible fabric, often with a different design on each side.
This crochet along will take place over 4 weeks and will cover the basic technique, a few of the stitch patterns and joining blocks and edging the project
You will need two different colors of the same yarn, approx. 200 yards each, worsted or DK weight.  (Cascade Anchor Bay was used in the model.)
Four 2-hour lessons
Total Cost: $40